Life time warranties on all our automotive films

828-697-8880

Serving Hendersonville, NC
Automotive Window Tinting Needs
Since 1989


We You can reach us Monday - Friday from 9:00 - 5:00 by Call 828-697-8880
Or email us at hwt@hendersonvilletinting.com

Our office hours for automotive window tinting are by appointment only.
Our office is closed while we are out tinting residential and commercial windows.


*** Automotive Film Viewers ***
See what your car might look like tinted
We make sure you get the most benefit from installing window film on your vehicle and stay legal at the same time.
---

While North Carolina's state laws concerning automotive window tint are restrictive, (read State Law here) you don't have to lose out on all the wonderful benefits of window tinting.
North Carolina allows us to install window film that will meter as low as 32% (only 32% of light passing through the windows) on passengers cars and front doors of trucks, vans and SUV's while remaining legal and passing all state inspections.

All factory automotive glass has a little hint of color in it that varies with each manufacturer, make and model. This will effect the over all reading on a light meter when window film is installed. The lower the number metered, the darker the tint is. We test each vehicle we do in order to determine a film that offers the best protection from glare and visible light (the darkest film) while remaining within the legal limits of 32%

Our films start working for you the minute it's installed on your car, offering benefits beyond your needs. Since Solar Gard blocks up to 99 percent of damaging ultraviolet light and rejects as much as 61 percent of uncomfortable solar heat, you can experience these substantial benefits and stay legal. It is good to know that you do not have to "blackout" your windows to keep your vehicle cooler and protect it against fading. Some the benefits are as follows: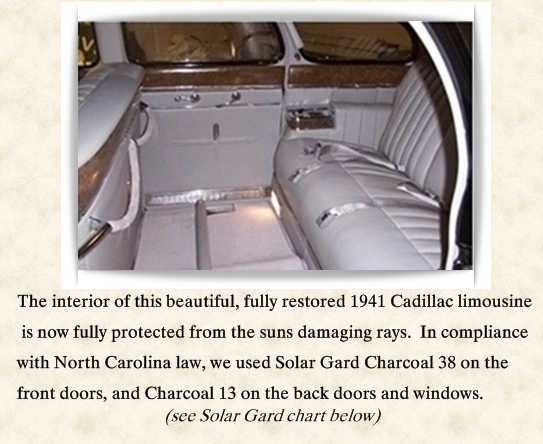 Reduced Hot Spots & Glare




Solar Gard HP Charcoal
Optimum heat rejection, excellent clarity with a lifetime warranty
When dark, sleek and super cool is what you're looking for, for your vehicle, then the Solar Gard ~ HP Charcoal is just for you. The benefits of HP Charcoal are simple: it works great, keeps you cool and looks fantastic! HP Charcoal is a metalized film that reduces solar energy transferred through your vehicle's glass. It also protects you from the sun's damaging UVA and UVB rays.HP Charcoal features industry leading film clarity for unaltered visibility and safe driving.


* Blocks more than 98% of ultraviolet light to protect you, your passengers and your interior cabin components
* Excellent film clarity for unaltered visibility
* Superior glare reduction for safe and comfortable driving
* Scratch resistant coating for maintenance free operation
* Solar Gard limited lifetime warranty
Llumar CTX Series Ceramic Tint
Create a smart, stylish comfort zone with the LLumar CTX Series. It uses proven nanoceramic technology to help reduce heat, glare and UV rays without sacrificing signal clarity or connection speed for smart devices: phones, tablets, navigation, keyless entry, satellite radio and more.
Key Features
Enhanced style

Excellent glare reduction

Advanced technology won't interfere with electronics

More than 99% UV protection*

Increased privacy for passengers and belongings

Variety of shades from light to dark

Charcoal color matches factory privacy glass

Scratch-resistant coating helps protect against damage

Enhanced protection from shattered glass

Manufacturer's lifetime limited warranty**
We are available to install window film on your vehicle Monday through Friday, from 9:00 to 12:30, by appointment.

Check out our pictures on our page